If you're a fan of all things mid-century modern, then you know that the right bathroom tile can take a standard bathroom from bland to retro fabulousness. We've put together some of our favorite sources and ideas for mid-century modern bathroom tile to help you create the perfect vintage-inspired bathroom.
A Bright and Cheerful Bathroom with Geometric Tiles
If you want to add a pop of color and pattern to your mid-century modern bathroom, geometric tiles are the way to go. This bathroom is perfect inspiration, featuring fun and funky grey geometric tiles with a light pink vanity and touches of stained wood and gold.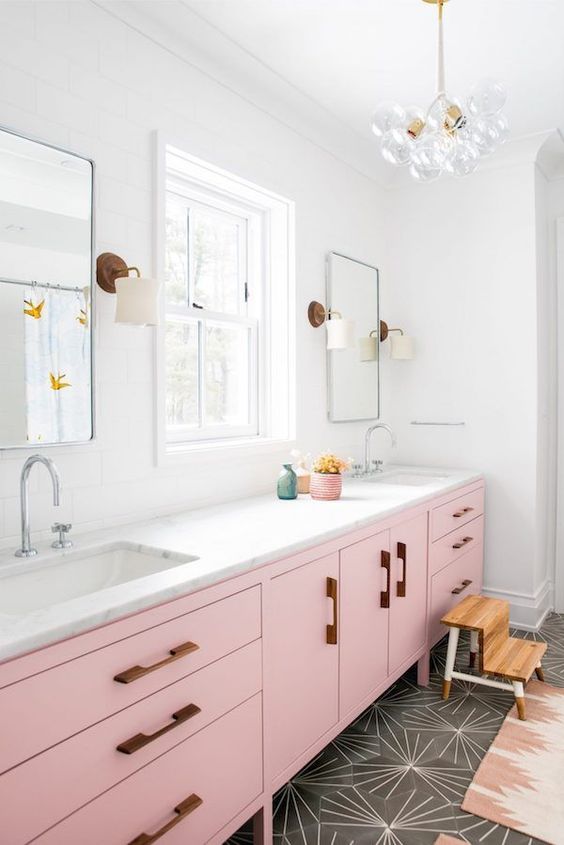 If you're feeling adventurous, don't be afraid to mix and match different geometric tile patterns or to add a bold accent color. Just be sure to keep the rest of the bathroom decor simple to avoid overwhelming the space.
A Refined Bathroom with Ran Plaster Walls and Marble Hex Tiles
If you want a more luxurious mid-century modern bathroom, consider incorporating marble hex tiles and ran plaster walls for a refined and timeless look. The wooden vanity and navy skinny tile wall in this bathroom add a touch of modernity while brass finishes provide a subtle hint of glamour.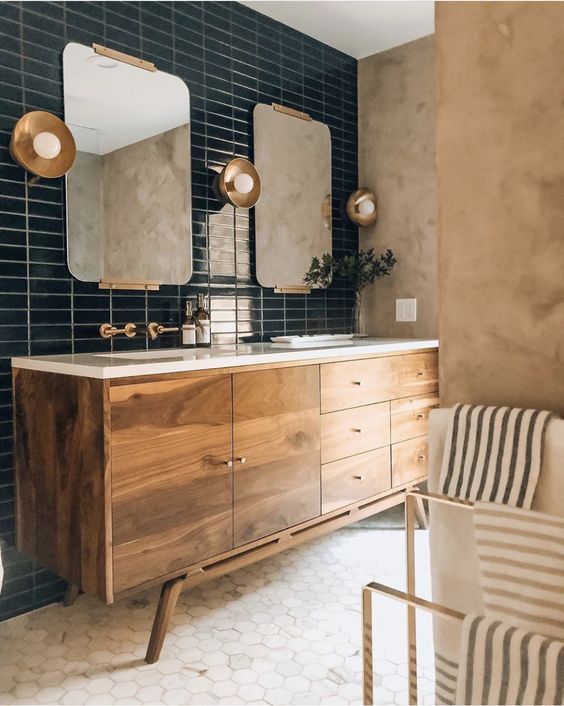 When working with marble tiles, keep the grout lines thin and consistently spaced for a seamless look. Pastel hues, mid-century lighting fixtures, and vintage mirrors add to the nostalgic vibe of this bathroom.
A Fun and Playful Bathroom with Zebra Wood Cabinetry
If you're looking for a mid-century modern bathroom that's playful and eclectically charming, consider using zebra wood cabinetry. The rich wood tones establish a warm, cozy atmosphere and work particularly well with bright accent colors.
Yellow, red, and navy are great accent colors when working with zebra wood. Add bursts of color in the form of towels, wall art, and bath mats to keep the bathroom lively and interesting.
Mixing and Matching with Mid-Century Modern Bathroom Tile
One of the strengths of mid-century modern bathroom tile is the versatility it offers for mixing and matching. For example, you can combine small and large tiles, use contrasting colors, or experiment with different shapes and textures for an eclectic yet cohesive vibe.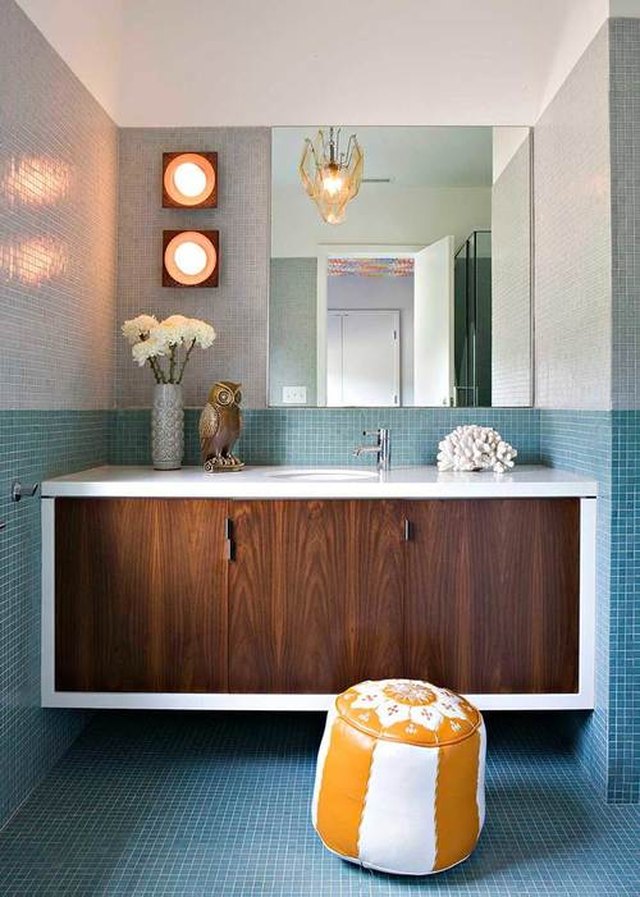 When mixing and matching, it's important to establish a common theme or design element to bring the overall look together. For example, you can use a neutral color palette to balance out the vibrancy of the tiles, or use the same type of tile in different colors to add variety while maintaining consistency.
Final Thoughts
There you have it! Our favorite sources and ideas for mid-century modern bathroom tile. Whether you're looking to completely renovate your bathroom or simply add a few accent pieces, mid-century modern tile is a great way to infuse your bathroom with personality and charm.
Remember, when choosing your bathroom tile, don't be afraid to experiment with different patterns, textures, and colors. Just be sure to keep the overall design consistent and choose a theme that speaks to your personal style.
Happy decorating!